DDR Flag

This page
This is an unofficial page, it has no relation whatsoever with Pentacon GmbH, makers of Praktica cameras. It provides practical and historical information, about the Praktica B camera line. Although in less detail it also covers older Praktica/Pentacon models. This site is no longer mantained, visit the About... page for more information about it.


Pentacon logo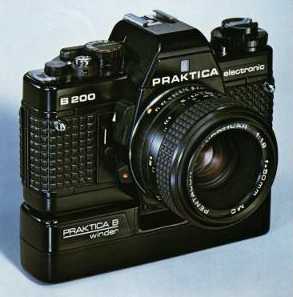 Picture from the "PRAKTICA B-system" advertising brochure.
The camera
The first Praktica B was the Praktica B200 of 1978; it was presented at that year Photokina. Praktica cameras were made in East Germany by VEB Pentacon, one of the more respected European camera manufacturers. The Praktica B200 was the first Praktica with bayonet lens mount. The B200 was a very advanced camera, Japanese camera makers were using either mechanical or hybrid mechanic/electronic lens mounts. The Praktica used full electronic lens coupling. The Praktica B200 provided serious photographers with features that, even today, are difficult to find together in one camera:
Operation without battery.
Provision for mechanical cable release.
Depth of field preview.
Separated flash circuits for X-sync and shoe mount sockets.
Full viewfinder information.
Exposure lock.
40s automatic exposure.
Updated 22/5/2004
A new line of lenses, called Prakticar, was produced for this new camera mount. They were made by Carl Zeiss Jena, Pentacon, and Sigma. Later the basic B200 body was improved with the Praktica BC1 that included dedicated flash circuitry. With it's many variations the BC1 was one of the most successful Praktica bayonet models.
In 1988 the Praktica BX20 was launched, it was based in a new chassis, and for the first time a Praktica camera included TTL flash metering.
After German Reunification production was taken by Schneider-Dresden, the production of the Praktica BX20s was initiated. Regular production of Praktica bayonet cameras was stopped around 2002 when the stock of parts, left from Socialist times, begin to exhaust. Pentacon continues to service Praktica SLR cameras, my guess is that they still can assemble a few Praktica BX20s with the parts remaining.
Pentacon doesn't have the money, nor the will, to develop a new SLR camera. (Pentacon could always contract Cosina to produce a camera with PB lens mount, other manufacturers have done this in order to mantain support for their manual focus lenses. But this will probably never happen).

Praktica related Sites.

Pentacon Dresden (former Schneider Dresden) - Manufacturers of Praktica cameras.

KW - Manufacturer of NOBLEX cameras, original owners of the Praktica brand name.

Jenoptik Jena - Jenoptik is one of the few DDR companies that survived German reunification. Jenoptik was the conglomerate that owned Carl Zeiss Jena.
ANALYTIK Jena GmbH - ANALYTIK is a Jenoptik subsidiary. Recently Analytik acquired the old Carl Zeiss Jena Eisfeld factory, The Eisfeld factory had been owned by Docter Optic since German reunification. Production includes binoculars and riflescopes.
Berlebach - Berlebach is one of the survivors of the DDR photo industry. Berlebach makes beautiful wooden tripods.
Schneider Kreuznach - Sister company of Pentacon Dresden. Manufacturers of fine lenses, and B+W filters.

Samyang Optical - The last supplier of PB mount lens.

Sigma Optical - One of the original manufacturers of Prakticar lenses. Sigma no longer makes manual focus lenses.
Meopta - The "official" enlarger for Praktica Photography.